Finding My Tribe
XOXO is a very emotional festival. For all of its great joy and energy of the people in the conference, many of the inspiring stories from the speakers in the conference portion do not shield—in fact take great care to detail—the difficulty of making their thing. Against the odds, other people, and sometimes even themselves, they put these great ideas into the world.
Nicky Case, Chaos Theory and Killing Your Darlings
As part of the conference, Nicky Case talked a lot about chaos theory and the inability to know what small decisions one makes that may affect their lives in truly profound ways. In his case, how small side gigs derailed him from his successful crowdfunded project, and how it even caused him to abandon it entirely.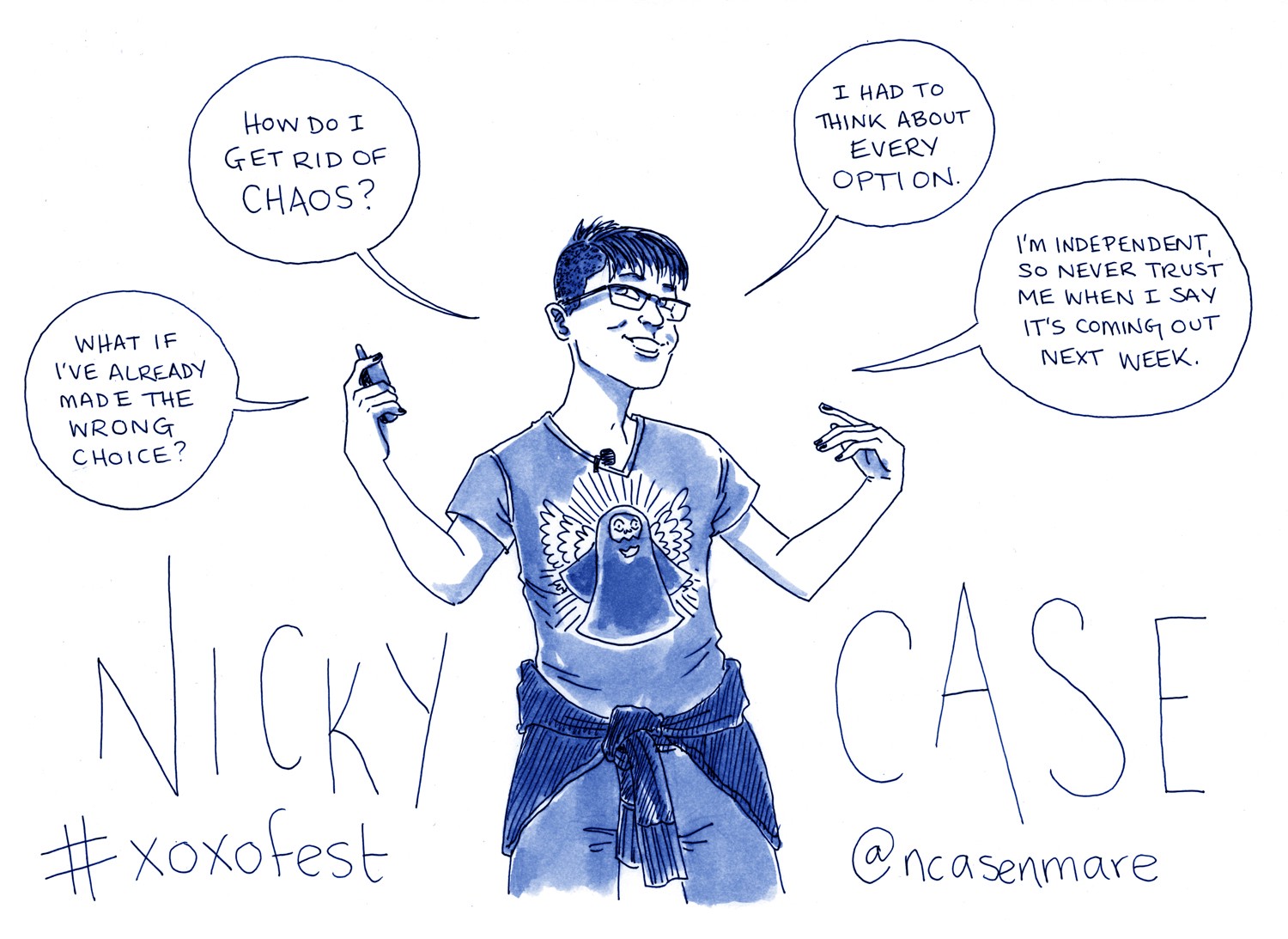 Illustration by Lucy Bellwood for XOXO. More sketches on Medium.
At one point, his suggestion was to kill your dream. His rationale: up close and in person, your dream doesn't necessarily look how you thought it would when it was a figment.
But owing to chaos theory, he said, you don't have one singular dream. You likely have many—and when I thought about it in the context of my thesis, these ideas are bountiful and there are perhaps too many possibilities. So to that end, his suggestion was maybe not to kill a dream, but serial kill all your dreams.
The new idea: leave yourself as open as possible for whatever happens. Those connections you end up making may trace themselves back in a manner you couldn't have imagined. And planning a precious dream takes your mind off from the doing that's so important. So go, and do, and be awesome.
It hit hard, it mattered, and was one of the messages that stuck with me after I hopped that flight back east.
Revolution Hall
But it actually wasn't only the speakers and talks that were inspiring, much as they were. The space it was held in, Revolution Hall, was a former high school that was converted into a performing arts space. It was a revelation to my current thesis idea about creating community spaces that are more flexible and use existing space. There are other examples on that spectrum that have resonated, one of which is Brooklyn's Threes Brewing, but not quite like this.
For Rev Hall, they don't only use the space for artistic performances, or private events like XOXO. They have also converted the former classrooms to be office spaces for startups and small businesses. Now, my project doesn't intend to reach this scale, but it's still a phenomenal re-use of this space. It feels like more than just a venue—it aims to resonate and power an entire community.
And what's awesome about that feeling is how XOXO itself may begin to physically inhabit a similar vibe. They announced late this spring they are going to have a year-round space in Portland, where they invite independent makers to do their thing. It's wild, but awesome, and I am excited for this new chapter of XOXO.
That 'Tribe' Thing
My fear has been this post won't do justice compared with what I actually felt from the conference. So many others have done much better: Virginia Roberts, whom I had the distinct pleasure of meeting at a #podcast meetup, reminded us to cry—and I totally did at a couple of talks. Then there's this incredible summation from Ariana Osborne. I seriously wish I met her—those Medium posts are on point, getting real about feelings I may be inadequate to express.
From my perspective, being at XOXO made me feel very strongly that I'd finally found the people I identified with and could actually hang around. That doesn't mean it was easy—a lot of it was understanding how to be present with the discomfort of feeling belonging and an outsider status; the push-and-pull of working on something valuable while still being relatively anonymous all at the same time. Whether it was nerding out or just saying hi to some great people I have long been a fan of, or playing games I've never heard of with people I've never met—and having a blast—it was awesome but took everything I had.
I've remarked several times to friends the previous conferences I've attended (Brooklyn Beta and Webstock, if you're curious), were very emotionally difficult to handle. I loved Webstock, but felt like a fraud and unfit to keep the company of those I shared the air with. At Beta, one year I tried to bury my fear in generous helpings of free Sixpoint—delicious, but ultimately self-destructive. (And my making light of it is no excuse.)
But a lot of what I've experienced in the last year—between a renewed direction, sense of self, and desire to contribute and be valued in the world—had prepared me to accept the ocean of feelings that I encountered; or, to at least let me exist in its space without feeling overwhelmed.
So I'm glad about the people whose hands I shook, those with whom I was able to engage in excellent conversation, and to come out of the experience feeling exhausted but largely lacking regret. And moreover, to allow XOXO to propel me forward to continue putting good ideas in the world and amplifying the ones I've encountered.